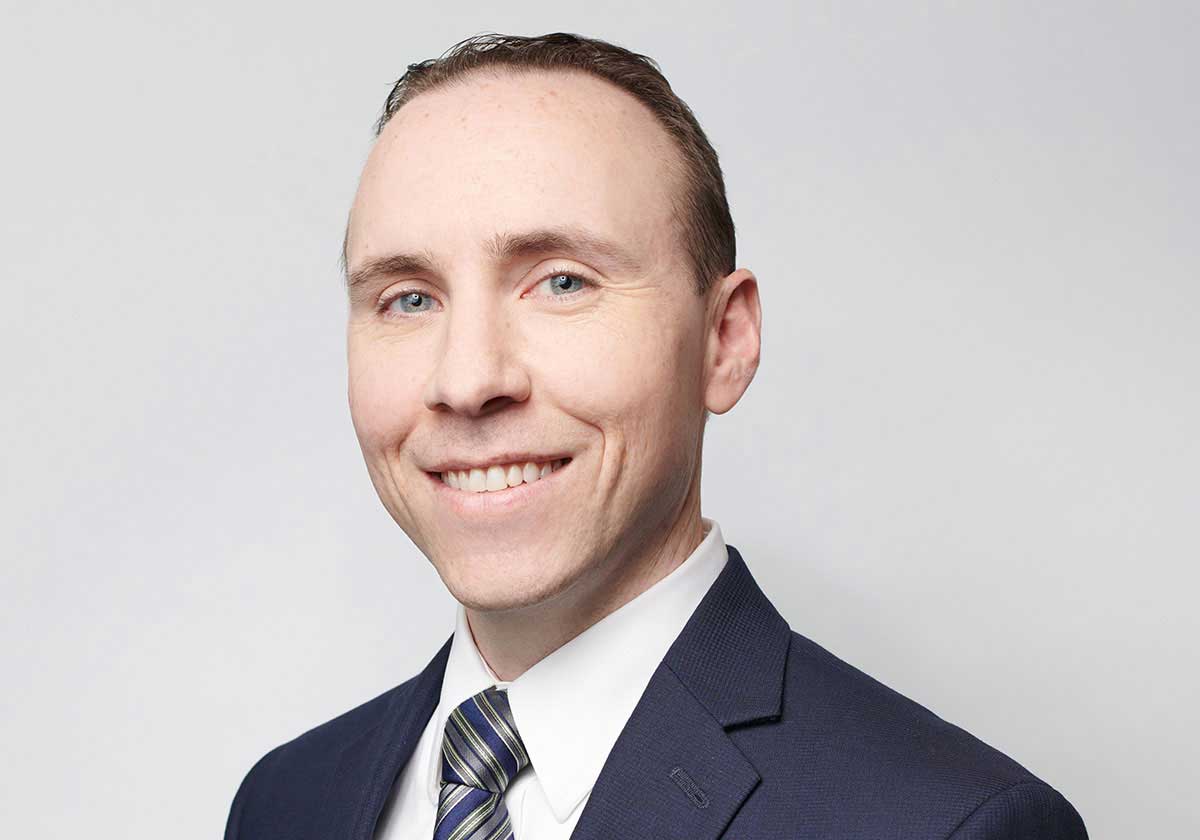 As a patent prosecutor, litigator, and former U.S. Patent and Trademark Office examiner, Justin Philpott has unique insight to recognize and obtain strong patents for clients. Specializing in intellectual property law for more than two decades, he has critically examined hundreds of applications at the USPTO and carefully drafted, prosecuted, and litigated hundreds more patents as a registered U.S. patent attorney. With a global perspective, Justin protects the strategic IP for clients of all sizes, from startups to Fortune 500.
Example Technologies:
Justin has patent prosecution, litigation, and counseling experience in a wide range of electrical, computer, and mechanical technologies. Additionally, he has developed a unique specialization in wireless communications and video coding and compression. Justin also has particular interests in green technology, artificial intelligence, and robotics.
5G Wireless Communications:
Justin has spent a decade immersed in wireless communications technology. Justin currently leads a team of patent attorneys and agents in drafting and prosecuting patent applications in 5G wireless communications. Justin has drafted or prosecuted more than 400 patent applications relating to 5G technology such as beam management, random access procedures, handover, cross-carrier scheduling, uplink and downlink power control, supplemental uplink, bandwidth part switching, network slicing, prioritization and preemption for ultra-reliable low latency communications (URLLC) and enhanced mobile broadband (eMBB), vehicle-to-vehicle (V2V) and vehicle-to-anything (V2X) communications, and sidelink communications. Previously, as a USPTO patent examiner, Justin examined earlier generations of wireless communications technology, including GSM, CDMA, and CDMA2000, classified in multiplex communications (class 370), telephonic communications (class 379), and telecommunications (class 450).
Green Technology:
Justin has a passion for the environment. He has represented clients in patent matters to help develop and protect inventions in areas such as solar power conversion and battery power conservation. He has presented on topics such as how tech-driven organizations can innovate for a green future. Putting ideals to practice, Justin powers his home using 33 solar panels in a 10.2 kW solar power system that also feeds the grid with excess sun-powered energy.
Video Coding and Compression:
Over the course of several years, Justin asserted and defended patent portfolios in multiple district court litigations and International Trade Commission (ITC) investigations relating to MPEG-2 and MPEG-4 video compression as well as ITU-T J.83 high definition television (HDTV) coding and transmission technology. He has analyzed Verilog and VHDL source code in connection with these litigations and is well-versed in HDTV coding and transmission, from quadrature amplitude modulation/demodulation (QAM) and forward error correction (FEC), to binary convolutional coding (BCC) and digital gate-level analysis.
AI & Robotics:
Justin has hand-on experience with robotics. His work in robotic control systems has been referenced in the textbook, "Engineering Design – A Practical Guide." Madara Ogot & Gül Kremer, Trafford Publishing, 261-63 (2004). Justin designed the electrical system for a robot that he used to compete at Comedy Central's BattleBots in 2002. More recently, he has litigated patents in electronic and mechanical access control technology and he has prosecuted patent applications relating to vehicular communication systems. To this day, Justin regularly attends events showcasing the latest developments in robotics, with a focus on intellectual property, including in areas such as artificial intelligence and autonomous vehicles.
Pro Bono Service:
Justin is proud to have represented clients on a volunteer basis (pro bono) for matters beyond patents. As lead counsel on behalf of three Tanzanian Boy Scouts seeking asylum, he successfully argued before the U.S. Court of Appeals for the Sixth Circuit on the principles of basic fairness in asylum proceedings. Justin's oral argument led to a unanimous decision overturning each boy's asylum denial, an outcome that has been cited in a leading international textbook on refugee law, "The Law of Refugee Status." Hathaway et al., James C., Cambridge Univ. Press, 2nd Ed. (2014), 170, n. 506 (citing Kiegemwe v. Holder, 427 Fed.Appx. 473 (6th Cir. 2011)). Justin also has resolved legal disputes in music copyright and employment matters through volunteer organizations such as Lawyers for the Creative Arts and the Northern District of Illinois' Settlement Assistance Program for Pro Se Litigants, and he currently volunteers with Illinois Science & Technology Coalition to help startups with IP issues.
Rutgers University




2002, B.S., Electrical and Computer Engineering




Georgetown University Law Center




2008, J.D.



Bar Admissions
Court Admissions
U.S. Court of Appeals for the Sixth Circuit
U.S. District Court for the Northern District of Illinois
District Court Litigation
Amsted Rail v. Temper Axle, 14-cv-02849 (N.D. Ill.) – Represented Amsted Rail in defense of alleged patent infringement over its train axle bearings and assemblies
Dyson v. SharkNinja, 14-cv-00779(N.D. Ill.) – Represented SharkNinja in defense of alleged design patent infringement by its vacuum cleaners
Caltech v. OmniVision, 13-cv-01589 (D. Del.) – Represented OmniVision in defense of patent infringement allegations related to CMOS image sensor technology
Innovation Associates v. Kyocera, 13-cv-00350 (D. Del.) – Represented Kyocera in defense of patent infringement allegations related to cell phone graphical user interfaces
Alex Is The Best v. Kyocera, 13-cv-01783 (D. Del.) – Represented Kyocera in defense of patent infringement allegations related to image capture devices
Kyocera v. Imperium, 12-cv-04990 (N.D. Cal.) – Represented Kyocera seeking a declaratory judgment of non-infringement and invalidity of three patents related to CMOS image sensor technology
Vibes Media v. Digigraph.me, 12-cv-04166 (N.D. Ill.) – Represented Digigraph.me seeking a declaratory judgment of invalidity of patents relating to creation and transmission of personalized messages and celebrity autographs
Marine Technologies v. Atwood Mobile, 12-cv-04199 (N.D. Ill.) – Represented Atwood Mobile in a patent infringement dispute related to gas detection technology
Kyocera v. Imperium, 11-cv-00163 (E.D. Tex.) – Represented Kyocera in defense of patent infringement allegations related to CMOS image sensor technology
Micro Enhanced Technology v. Videx, 11-cv-05506 (N.D. Ill.) – Represented Videx in defense of alleged infringement of nine patents related to electronic lock and key access control systems
Videx v. TriTeq, 11-cv-06384 (D. Or.) – Represented Videx in its assertion of patents relating to electronic access control technology
Multimedia Patent Trust v. Vizio, 09-CV-00278 (S.D. Cal.) – Represented Vizio in defense of patent infringement allegations regarding video compression technology
Vizio v. LG Electronics, 09-cv-01481 (D. Md.) – Represented Vizio in its assertion of patents relating to Quadrature Amplitude Modulation (QAM) and Forward Error Correction (FEC) techniques for high definition television (HDTV)
Vizio v. Funai, 09-cv-00236 (E.D. Va.) – Represented Vizio in its assertion of patents relating to high definition television signaling technology
Vizio v. Sony, 09-cv-01043 (C.D. Cal.) – Represented Vizio in a patent infringement dispute involving fourteen Sony patents and seven Vizio patents related to various television technology
International Trade Commission Section 337 Proceedings
ITC Inv. No. 337 TA-789, Digital Televisions and Components Thereof – Represented Vizio in its assertion of patents relating to Quadrature Amplitude Modulation (QAM) and Forward Error Correction (FEC) techniques for high definition television (HDTV)
ITC Inv. No. 337-TA-742, Certain Digital Televisions and Components Thereof – Represented Vizio in defense of patent infringement allegations related to television display technology
ITC Inv. No. 337-TA-733, Flat Panel Digital Televisions and Components – Represented Vizio in its assertion of patents relating to high definition television signal processing
ITC Inv. No. 337-TA-687, Video Displays, Components Thereof, and Products Containing Same – Represented Vizio in defense of patents infringement allegations relating to television signal processing technology
ITC Inv. No. 337-TA-654, Certain Peripheral Devices and Components Thereof and Products Containing the Same – Represented Primax in defense of patent infringement allegations related to computer peripheral devices
ITC Inv. No. 337-TA-634, Certain Liquid Crystal Display Modules, Products Containing Same, and Methods Using the Same – Represented Sharp in post-hearing briefing related to alleged patent infringement of liquid crystal display technology
ITC Inv. No. 337-TA-631, Certain Liquid Crystal Display Devices and Products Containing the Same – Represented Sharp in post-hearing briefing related to alleged patent infringement of liquid crystal display technology
ITC Inv. No. 337-TA-589, Certain Switches and Products Containing Same – Represented Belkin in defense of patent infringement allegations related to computer switching controls