Anthony J. Denis
Attorney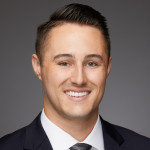 Anthony Denis helps clients implement their intellectual property strategies and achieve goals. His practice focuses on patent and trademark litigation. He has experience in fields such as sporting goods, mechanical devices, cleaning products, and consumer goods.
Before joining Banner & Witcoff, Anthony served at Indiana University Maurer School of Law as a Managing Editor of the Indiana Law Journal. Anthony also served in the Maurer School of Law's Intellectual Property Clinic. Under the supervision of the Clinic's director, Anthony engaged directly with clients and gained valuable experience in a broad range of intellectual property areas. For example, Anthony helped several clients apply for federal trademark registrations. Anthony also helped prepare utility and design patent applications for clients.
Anthony earned a Bachelor of Science degree in chemistry, magna cum laude, from The Ohio State University.
Office
71 South Wacker Drive,
Suite 3600
Chicago, IL 60606
T 312.463.5000
F 312.463.5001
E Emailadenis@bannerwitcoff.com
Education
B.S. 2015, Ohio State University
J.D. 2018, Indiana University
Bar Admissions
2018, Illinois