Grant Hodgson
Attorney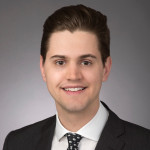 Grant Hodgson focuses on the preparation and prosecution of patent applications. His technical experience includes a variety of areas, including computer security, networking, natural language processing, and machine learning. He has experience with deep neural networks, including standard feed-forward networks, generative adversarial networks, RNNs, LSTMs, GRUs, ResNets, and Siamese networks.
Grant earned his B.S. in applied statistics & analytics, and J.D., magna cum laude, from Brigham Young University. Grant will also soon complete his M.S. in computer science at BYU.
Grant is conversant in Japanese.
Publications
Mr. Hodgson is admitted to practice in the State of Virginia. Practice in the District of Columbia is limited to matters and proceedings before federal courts and agencies.  
Office
1100 13th Street, NW
Suite 1200
Washington, DC 20005-4051
T (202) 824-3000
F (202) 824-3001
E Emailghodgson@bannerwitcoff.com
Education
B.S. 2012, Brigham Young University
J.D. 2016, Brigham Young University
Bar Admissions
2017, Virginia